SUPPORT CENTRE
To apply for help if you live in Tauranga, please contact the Support Centre on 07 578 3814 or call into the Centre which is located behind the Vinnies Shop at 766 Cameron Road, Tauranga.
If you live in Katikati contact their helpline on 07 549 2346
If you live in Waihi contact their helpline on 027 7837 001
If you live in Te Puke contact their helpline on  07 573 8006
If you live in Mount Maunganui/Papamoa contact their helpline on 021 029 87817
CONFERENCE COMMITTEES
We have 7 local groups (called Conferences), based throughout Western Bay of Plenty. If you are interested in joining a Conference, please see the notices in any of the churches below or contact 07 579 6453 for more information. The Society's Conferences are the core of The Society's work in the community and they are in desperate need of volunteers, please feel free to call for further information.
These are affiliated with:
St Thomas More Catholic Church in Mount Maunganui 
St Mary's Catholic Church in Tauranga (St Mary's Conference and St Joseph's Conference)
St Patrick's in Te Puke (Te Puke Conference)
St Joseph's Catholic Church in Te Puna (Te Puna Conference)
St Pius X Catholic Church in Katikati (Katikati Conference)
St Joseph's Catholic Church in Waihi (Stella Maris Waihi Conference)
WHAT CONFERENCE MEMBERS SAY:
"I have been involved with Welfare organisations for 7 years and currently with St Vincent de Paul for 2 years.  As a Budget Advisor and volunteer I gain personal satisfaction and spiritual inspiration in assisting clients in their needs.  Clients really give these "buzzes" when they say thanks and that they feel much better following their encounter with Vinnies." - Phil Brady, 69, Tauranga
"A hand up not a hand out is an ethos that I can relate to. We pray and discern on the people who come to us for assistance and with the Lord's help we come to the right decision." - Mary Elmiger, Tauranga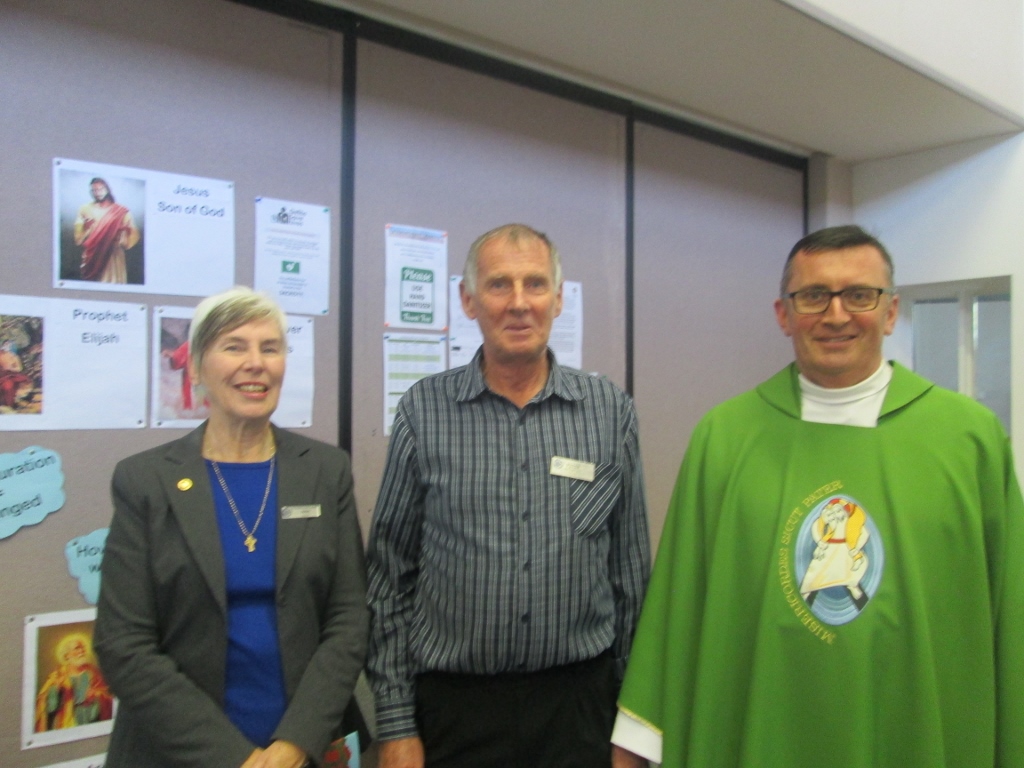 L-R: St Mary's Conference President - Trish Hanlen
St Mary's Conference Member Peter McConochie
Father Mark Parish Priest